Adonit JOT TOUCH Stylus [Pressure Sensitive] [Bluetooth]
JOT

TOUCH
The pressure sensitive stylus for digital drawing.
REALISTICALLY RESPONSIVE

Create strokes as thick or thin as you want. 2,048
levels of pressure sensitivity allow nuanced strokes,
like an ink pen or brush.
FINE-POINT PRECISION

Draw with exceptional accuracy
through a smart Pixelpoint tip.
BETTER TOGETHER:
PAIR WITH PREFERRED APPS
Jot Touch works with any app. But connecting to a compatible app opens up features like pressure sensitivity, palm rejection, and more precision.
SHORTCUT BUTTONS
TO STAY MOVING

Program the buttons for quick access to the functions you use most, like erase and redo.
ADOBE CREATIVE CLOUD INTEGRATED
Quickly pull your files from the cloud, copy and paste between devices,
and make custom color profiles with Adobe Color.
PALM REJECTION TO CREATE COMFORTABLY

Rest your hand on the screen without
making unwanted marks.
FEATURED ARTIST:
CHELSEY CONROY

"A brush, if you were using it in real life, will get fatter and thinner depending on the pressure. It's nice to have that mimicked so that the picture doesn't feel so stiff, it doesn't feel so digital … I think painting is very romantic, and to see those brushstrokes is very romantic."
WHICH
STYLUS
IS RIGHT FOR YOU?
CLASSIC
BLUETOOTH

MARK

MINI

PRO

SWITCH

DASH

SCRIPT

TOUCH

Best For
Everyday, multi-purpose
Smartphones,
On-the-Go
Everyday Notes and Sketches
Write on Touchscreens and Paper
Pen-like Simplicity
Pro Note Taking
Pro Drawing
Compatibility
All iPads, iPhones, & Android
All iPads, iPhones, & Android
All iPads, iPhones, & Android
All iPads, iPhones, & Android
All iPads, iPhones, & Android
iPad 4, All iPad Mini, All iPad Air
iPad 4, All iPad Mini, All iPad Air
Palm Rejection
Pressure Sensitivity
Shortcut Buttons
PixelPoint Tip
Disc Tip
Mesh Tip
Clip
Specifications
Tip: 1.9 mm
Length: 139.7mm
Diameter: 12mm
Connectivity: Bluetooth
Compatibility
iPad 3 & 4
iPad Mini 1-4
iPad Air 1 & 2
Battery Life
(in use)
In use: 11 hours
Sleep mode: ~ 1 month
Charging time: 1.5 hours
Materials
Aluminum body with rubber grip
Chrome-plated tip and details
IMAGES: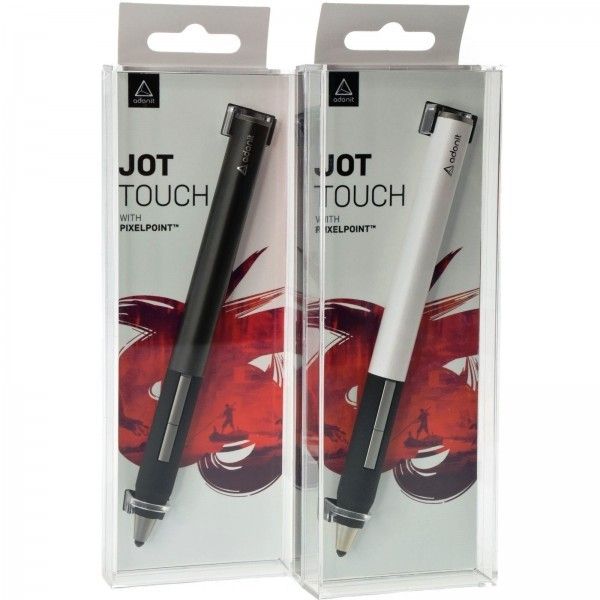 Last Updated @ 4/18/2016 2:51:46 PM

---